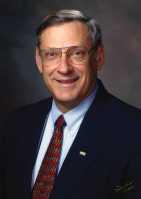 At the December board meeting of The Greater Lynchburg Community Foundation, Stuart Fauber, President & CEO, announced that he will retire on June 30, 2015. Mr. Fauber became President & CEO in January 2008 after a long and successful career in banking.
During Mr. Fauber's tenure as President & CEO, The Greater Lynchburg Community Foundation's total assets grew from $21.5 million to $36.2 million. During the same period, total number of funds grew from 118 funds to 230 funds. Under Mr. Fauber's leadership, The Community Foundation sought and obtained the accreditation of National Standards for U.S. Community Foundations. This achievement means The Community Foundation is one of a select group of community foundations that have met the nation's highest philanthropic standards for operational quality, integrity, and accountability.
MaryJane Dolan, Chair, stated, "Mr. Fauber has been an extraordinary leader during his tenure as President & CEO. He leaves us with a legacy of immeasurable value as evidenced by the enormous growth that has occurred under his leadership and the enhanced community relationships that have evolved during his tenure. We have enjoyed his financial acumen and his passion and commitment to the board and staff. Mr. Fauber will truly be missed. We wish him the best of everything as he begins his journey on the road of retirement.
The mission of The Community Foundation is to enhance the quality of life in the communities served by establishment of permanent endowments for the city of Lynchburg and the counties of Amherst, Appomattox, Bedford and Campbell, with income distributed annually to charitable organizations within these communities. Needs served are broad in scope including human services, education, health, the arts, and the humanities.
The Community Foundation began making grants in the Greater Lynchburg area in 1972. It is one of approximately 750 such community foundations across the nation rendering a valuable service both to the regions they serve and also to donors interested in the present and future of their communities. During its last fiscal year, The Greater Lynchburg Community Foundation distributed $1.5 million in grants to 140 charitable organizations in Central Virginia. A search committee will be formed in January to hire a successor for Mr. Fauber. December 17, 2014