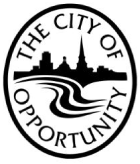 October 11, 2011
FOR IMMEDIATE RELEASE Contact:
Marjette G. Upshur,
Director Office of Economic Development
(434) 455-4491
This email address is being protected from spambots. You need JavaScript enabled to view it.
LYNCHBURG ECONOMIC DEVELOPMENT AUTHORITY ANNOUNCES PARTNERSHIP WITH Greater Lynchburg Community Foundation
Creation of Designated Fund of $50,000 to Promote Small Business, Entrepreneurship and Workforce Development
The Lynchburg Economic Development Authority (LEDA) is pleased to announce the creation of a designated fund to be administered by the Greater Lynchburg Community Foundation (GLCT). The $50,000 economic development fund will provide grants to area non-profits as well as publicprivate partnerships with a focus on programs that provide workforce development, job creation, entrepreneurial training and support.
At a time when many business assistance and workforce development programs are facing cuts, LEDA and GLCT wanted to support these critical initiatives. "These programs are intended to be proactive in order to build Lynchburg's future business community," said Marjette Upshur, Director of the Office of Economic Development. Upshur noted that the fund is also open to contributions from private donors, providing the business community a vehicle to "pay it forward."
GLCT will be administering the fund as part of its broad portfolio of community support initiatives. GLCT, coming up on its 40th anniversary, enjoys a long history of providing grants and other funding to support the needs of the Greater Lynchburg region. "We are fortunate to live in a community that is so caring and giving. The Greater Lynchburg Community Foundation has gone from a bank employee's suggestion in 1971 to a $29 million community foundation that gives approximately $1 million annually to meet essential needs in our region," said GLCT President and CEO Stuart Fauber.
For more information about LEDA or the new LEDA-GLCT partnership, please contact Marjette Upshur, Director, Office of Economic Development for the City of Lynchburg, at (434) 455-4491 or This email address is being protected from spambots. You need JavaScript enabled to view it.
###