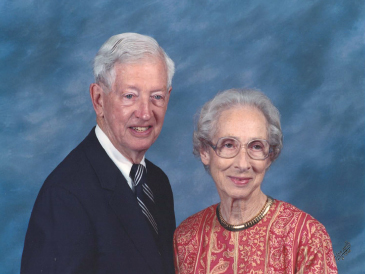 Lynchburg Native Gives $100,000 To The Greater Lynchburg Community Foundation
The Greater Lynchburg Community Foundation has received a bequest of $100,000 from the Estate of Samuel H. Williams, Jr.
Mr. Williams, who died on April 5, 2012 at age 91, was born in Lynchburg in 1921, graduated from E.C. Glass High School in 1938, and earned his BA in Classical Languages from the University of Virginia in 1942. He served in the Navy during World War II where he earned the rank of Lieutenant. Mr. Williams returned to Lynchburg in 1947 beginning a 40-year career in banking. He worked for First National Bank of Lynchburg (currently SunTrust) and retired as Trust Officer and Vice President.
Mr. Williams was a lifelong member of St. Paul's Episcopal Church and served the community in many ways through various civic organizations. He was married to Helen Howell Williams for 55 years.
Mr. Williams' generous gift will establish The Helen and Sam Williams Fund which will fund many worthwhile programs and services in Central Virginia for years to come. According to his niece, Elizabeth Dabney Hutter, Sam Williams "had a great love for his native Lynchburg and a strong desire to give back to the community he so adored. He was able to accomplish this by establishing this named fund at The Greater Lynchburg Community Foundation."
The Greater Lynchburg Community Foundation exists to promote local philanthropy and to simplify the process of giving. The Community Foundation receives and manages permanent gifts for the benefit of the citizens of the cities of Lynchburg and Bedford and the counties of Amherst, Appomattox, Bedford, and Campbell. Needs served are broad in scope including human services to children, youth, the needy, and the elderly; education; health; the arts; and the humanities.
The Community Foundation began making grants in the Greater Lynchburg area in 1972, and now consists of 197 named funds and an unrestricted fund, with trust assets aggregating over $29 million. It is one of approximately 750 such community foundations across the nation rendering a valuable service both to the regions they serve and also to donors interested in the present and future of their communities.
During its last fiscal year, The Greater Lynchburg Community Foundation distributed $1.4 million in grants to 103 charitable organizations in Central Virginia. Stuart Fauber, President & CEO of The Greater Lynchburg Community Foundation, said: "The Helen and Sam Williams Fund is a wonderful example of how one can give back to the community with a gift that lasts forever. And, the fund will serve as a permanent memorial to the philanthropy of Helen and Sam Williams."
May 4, 2012